I know I'm like two weeks late, DON'T HATE ME. I'm graduating from uni in about a month so I've had a crazy amount of work on top of trying to find a job and a new apartment…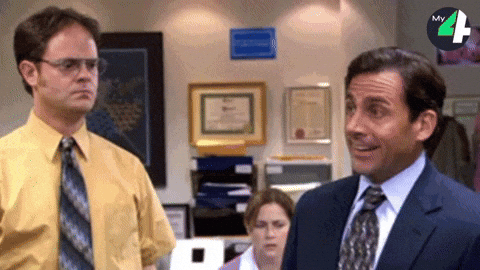 (me)
So I was tagged by the wonderful Monique @ Thatwildsoul for the Bookish Courtship tag! I'm super excited to do this tag so let's get right to it!
 Phase 1: Initial attraction: a book that you bought because of the cover
I'm not sure if this counts since I haven't bought the book yet, but Vengeance Road by Erin Bowman. I LOVE THIS COVER. This is like aesthetic gold for me, I'm obsessed. 
Phase 2: First impressions: a book that you got because of the summary
I think for this one I'm going to go with The Raven Boys by Maggie Stiefvater. I have a good friend who was obsessed with TRC but never picked the books up until a few months ago. As soon as I read the synopsis of The Raven Boys I knew it was going to be a really fun story full of laughter and feels, and I wasn't wrong!
Phase 3: Sweet talk: a book with great writing
I absolutely LOVE Victoria Schwab's writing in the shades of magic series. A Conjuring of Light was my favorite in the series and has been one of my favorite books of 2017 so far. She just has a really beautiful way of writing that's witty and poetic. It makes reading her books so much fun! She's literally the same on twitter and in person and I absolutely adore her. 
Phase 4: First date: a first book of a series which made you want to pursue the rest of the series
Most first books are at least interesting enough to make me read the rest of the series. I feel like if they aren't I usually DNF them instead of forcing myself to finish. I am a sucker for trashy YA series and I recently read Obsidian by Jennifer L. Armentrout which is the first in The Lux series. These books are like crack, I literally downloaded the second book immediately after finishing Obsidian. I read both books in two days, it was magical. I haven't finished the entire series but I'm reading the third book now!
Phase 5: Late night phone call: a book that kept you up all night long
I want to say Unravel Me and Ignite Me by Tahereh Mafi for this one because I read both of these books in less than two days. Seriously, I binged this series like nobody's business. I was about 1/4 of the way through Unravel me and spent 6 hours straight in bed reading until I finished UM and read half of Ignite Me. I HAD TO KNOW WHAT HAPPENED. JULIETTE. WARNER. WARNETTE IS EVERYTHING. KENJI IS MY CHILD. I LOVE THEM ALL SO MUCH. I want to do a reread of this soon but I'm afraid I'll get too emotional as soon as I start. Stay tuned…
Phase 6: Always on my mind: a book that you could not stop thinking about
You guys can answer this one for me, I'm not even going to explain myself anymore. 
Phase 7: Getting physical: a book in which you love the way it feels
The only thing I can think of for this one is the UK edition of Strange the Dreamer. I absolutely loved this edition, so much more than the US version and ordered it on Book Depository immediately. I haven't read it yet even though I've been dying to! The cover is one of those amazing super buttery dust jackets and the pages are sprayed blue. Basically, it's a work of art.
Phase 8: Meeting the parents: a book you would recommend to your friends and family
This is weird because I feel like it depends if the person is a reader or not. Usually, I don't recommend some of the more high fantasy/sci-fi books I read to family or friends if they don't read too often because I feel like they are less inclined to finish the book. But some books I love so much and literally tell everyone to read so idk! I have given at least 5 friends my copies of the Throne of Glass series so I guess that would count for this one!  
Phase 9: Think about the future: a book series that you know you'll re-read many times in the future 
ACOTAR without a doubt. I've already reread it 4 times since October. BYE WORLD
Phase 10: Share the love: who would you like to tag?
I'm tagging some of my lovely new followers. As always if you've done this tag before or don't feel like doing it, no worries! I look forward to seeing all of your responses!
Thai @ Read.Breathe.Repeat 
Poulami @ Daydreaming Books
Amna @ Bookish Endeavers 
Abbie @ Cafe Book Bean 
And anyone else who wants to do the Bookish Courtship Tag!
This once was a lot of fun to do! I tried to limit my use of ACOMAF but I feel like I would just be lying if I said I didn't think about this damn book 24/7. What did you guys think of my answers? Did you have similar thoughts? Let me know down below!