ok everyone..this post is going to be short and sweet but I'm feeling a lot of feelings and wanted to go crazy..
I just started watching …
(how corny was that LOL I hate myself)
I know, I know I'm like a couple months late but I was totally expecting it to be some kind of stupid teeny bopper drama that one sees on ABCfamily (freeform LOL)..WELL I SHOULD HAVE KNOWN BETTER!! I mean the CW usually has amazing shows and lets be honest I am truly a sucker for literally every show they put out so why should Riverdale be any different??
In the past 24 hours I've told every single person I talk to on a regular basis to watch this damn show because it's ***GOLD***
I AM LIVING FOR COLE SPROUSE BTW
VERONICA IS MY SPIRIT ANIMAL I AM IN LOVE WITH HER
I literally love every single thing about this show and I'm only on episode 3…
---
OK NEXT THING IM OBSESSED WITH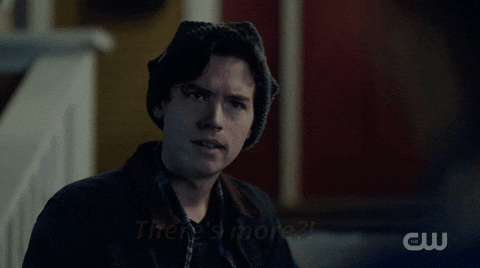 remember when I said this was going to be a short post… *evil laughter*
I'm currently listening to The Mime Order on audiobook which is the second book in The Bone Season septology by Samantha Shannon…Now I had mixed feelings about TBS, I really liked it but was confused for most of the beginning with the different supernatural aspects of the story (I think this is also because I'm listening to the audiobook rather than reading a physical copy). Anyway it's been about two months since I finished TBS so I wanted to get back into the story since the third book just released this week and
WOAH I AM LIVING FOR THIS STORY..
OK really I'm just obsessed with Paige/Warden and will ship this until I die but I feel like the story had improved a lot since TBS and I can follow it much more easily..I LOVE the whole mime-lord operation and I really love that we get to see more of the gangs in this book
I also read the synopsis for the third book and already spoiled myself so yea #typical
anyway that's it
I need to go binge the rest of Riverdale and listen to TMO
BYE
P.S. LET ME KNOW IF YOU ALSO LOVE RIVERDALE/HAVE READ THE MIME ORDER